Instructors
Tony Stoll – tstoll@sccusa.org
Description
Criminal Justice introduces students to procedures in the legal field such as search and seizure, crime scene evaluation, emergency medical services, weapon identification, law enforcement, loss protection services, and homeland security. We study the fundamentals of criminal investigation, theory and history; emphasis on techniques appropriate to specific crimes. The program will cover traffic administration and control: its impact as a control method, driver licensing local traffic control systems, accident causation and investigation, identification and analysis of traffic problems, traffic safety coordination, and the use of selective enforcement as a method of traffic control. we also study US criminal justice system Explore forensic science and its value in the courtroom: laboratory procedures and capabilities; crime scene searching and sketching; photography; firearms and tool mark identification; fingerprints; shoe and tire impressions; headlamp examination; arson; analysis and preservation of trace evidence.
Training is based on standards and content similar to that provided by officially designated law enforcement agencies. Instruction includes procedures for patrolling on foot or in an automobile during the day or at night; dealing with misdemeanors, felonies, traffic violations, and accidents; investigative and evidence collection procedures; making arrests; and testifying in court.
Students will have the opportunity to use the Aries (Automated Reporting Information Exchange System), this is the system used by most law enforcement agencies in the state of Indiana to report, chart and analyze crash sites. By using this software the students will sharpen their mathematical skills in crash reconstruction and analysis activities requiring measurements and performance of speed/acceleration calculations. Another great tool this program uses is the FATS (Firearms Tactical Training System), a training setup that provides simulated scenarios that the students can interact with for individual results. Additional activities simulating criminal investigations will be used to teach scientific knowledge related to anatomy, biology, and chemistry. Oral and written communication skills will be reinforced through activities that model public relations and crime prevention efforts as well as the preparation of police reports.
Dual Credit Institutions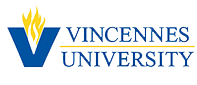 Certifications
NIMS 100,200,700,0800(Emergency Management Institute), CPR/AED Certifications
Career Paths
Police Officer, Detective, Special Agent, Corrections Officer, Private Detective, Security Consultant, Public Defender, Criminal Justice, Law Enforcement, Conservation Studies, Fire Safety, Emergency Medical Services
$43,791 Average Median Annual Salary
$21.05 Average Median Hourly Salary
Career/Technical Student Organization
(Skills USA) Students participate in community service projects and various skill competitions through Skills USA. Through these activities, students develop leadership and organizational skills, team building, interpersonal communications, and enhanced technical skills.